Fundraiser in Memory of CornishGamerHen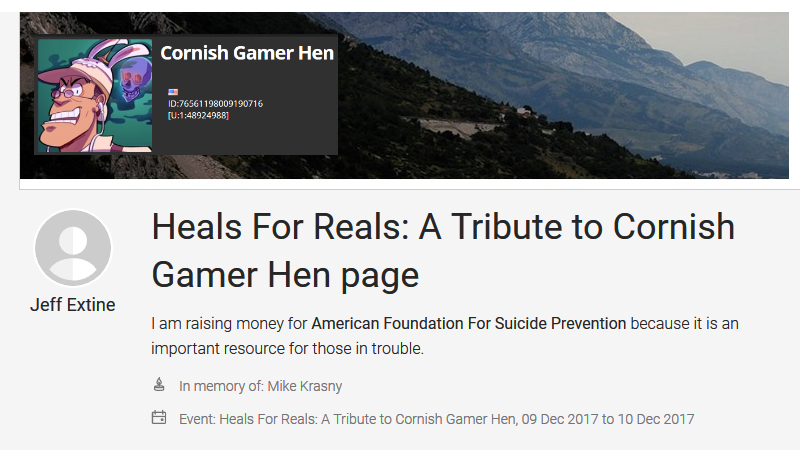 Mon, Dec 4, 2017 by Fornaught
Sadly, our community lost another player this past year, CornishGamerHen (UGC Profile, Steam Profile) and his friends have organised a fitting tribute to him.
Below is the note sent to UGC.
--- Cat Agent:
A coalition of community members has come together to produce a charity event in tribute to CornishGamerHen. Taking place on December 9th and 10th, Heals For Reals will raise funds for the American Foundation for Suicide Prevention. The AFSP works to raise awareness, fund research, and providing resources for those in need. Our donation page is https://www.justgiving.com/fundraising/healsforreals. There will be a medal distributed for donations over $10, please include your STEAM:ID in the donation notes.
Mike "CornishGamerHen" Krasny loved playing medic and was a dedicated member of the TF2 community, bringing humor and joy to those he played with. He attended FLAN, GXL, and played 6s and Highlander in the UGCLeague. Mike's passion for TF2 was contagious, the impact he personally had on his fellow players in the community was huge and underlines the ability for gaming to transcend barriers and connect people. This event will include opportunities for people to memorialize CornishGamerHen, share personal stories regarding depression and suicide, as well as discuss ways to find help and improve mental health. Balancing out the very serious nature of our fundraising will be a diverse spread of light hearted and competitive TF2 programming.
eXtine and Lecrum will be hosting it from eXtine's apartment in Portland, Oregon, they will be joined by as many guests as possibly, in person and online.
The broadcast for Saturday the 9th will start at 9am PST on https://www.twitch.tv/kritzkast and after our opening content shift to a 2 hour segment with the Jump Community. We'll have some quick tutorial segments discussing how the different classes play in competitive environments and quick casual tournaments before shifting gears to a series of ProLander show matches featuring 4 teams composed of Professional TF2 Players, TF2 Personalities, and auctioned off slots for 2 players. Our broadcast will start winding down around 7pm PST, prior to that will be a live edition of Cooking with eXtine as he showcases how he makes bacon fried rice.
We will be running an Ultiduo tournament throughout Saturday, with signups going up in the following week on Essentials.TF. Matches on Saturday might make the broadcast, but the Top 8 teams will be guaranteed to be broadcast on Sunday. The entry fee is a $10 donation which also qualifies you for a medal.
Kicking off at 9am PST on Sunday the 10th will be another Cooking with eXtine segment as he goes over the various ways he prepared eggs for the members of Team Liquid's Dota 2 squad. Following that will be a Highlander Showmatch, more classes, a 6s Showmatch on Mirror Mode maps, and the top 8 of our Ultiduo tournament
----------
TF2 Scrap Donation : https://scrap.tf/heals4reals
Thank you to cat agent, extine and all of cornishgamerhen's friends for organising this tribute. Please help them out by viewing the stream & contributing if you are able to. The stream will be shown live on the UGC homepage.
Life can be hard. For those in distress, please reach out to your family and friends for support. The holiday season can be especially difficult for some people, and we should be kind and understanding of those in need of help. Check on your friends and family, never hesitate to help when you can, and always speak up if you think something is amis. You can make a difference in someones life.
- Fornaught UGC admin