UGC Overwatch League Rules
Published on October 2, 2017 5:53 PM Eastern Time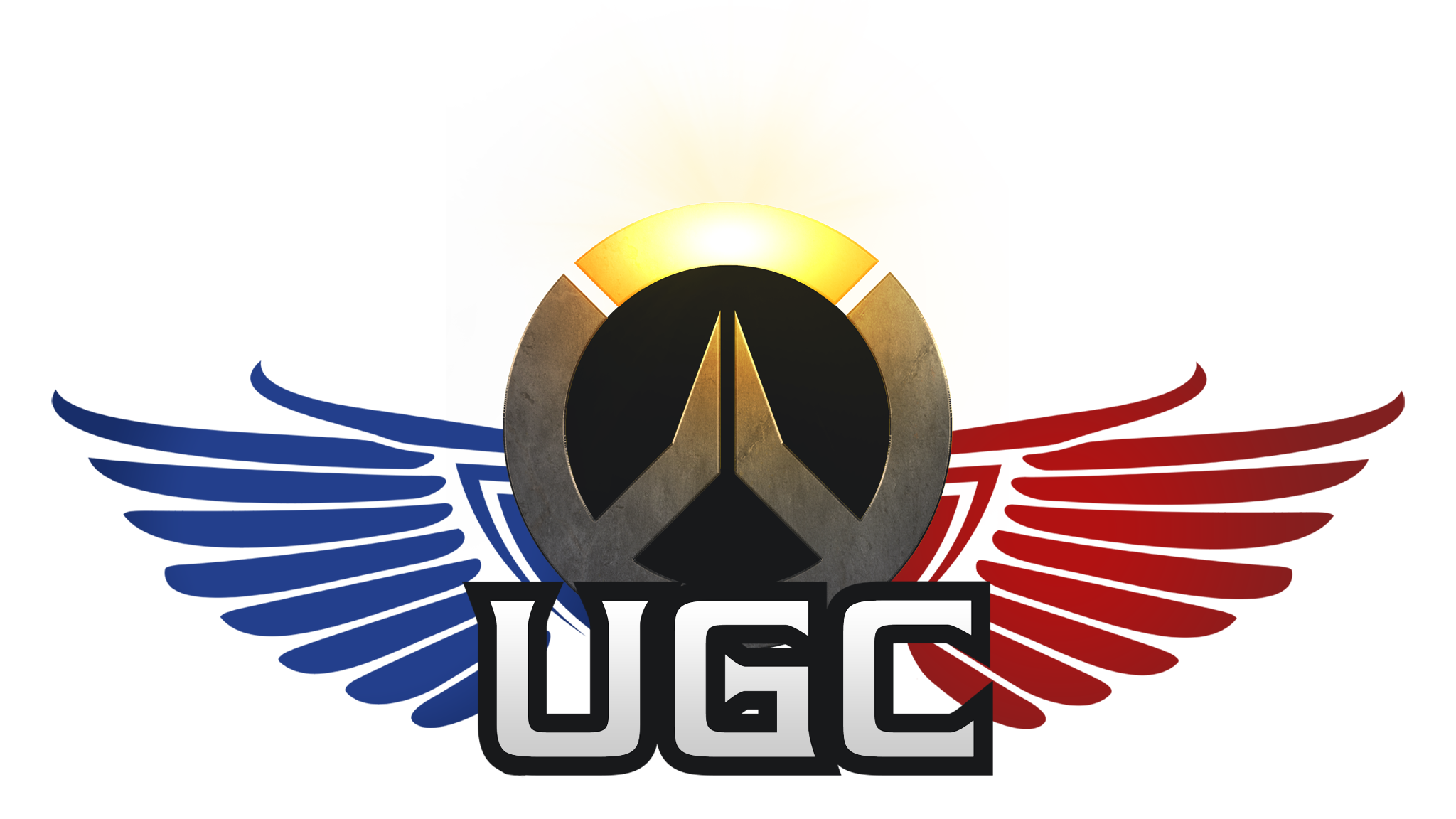 This season's admins will be:
Snowblind#1570 (Head Admin)
BOOMstick#11199 (Managing Admin)
DiegoRed#1558 (NA Gold Division Manager)
Zabi#11564 (NA Steel Division Manager)
Iyarkonan#1785 (NA Iron Division Manager)
Players can feel free to engage us directly on Battle Net, Discord or on Twitter.
Below are the rules based on the current state of the game. The rules will be edited as needed should any gameplay or structure changes occur throughout the season. All teams registering and participating in the UGC Overwatch league will be assumed to have carefully read these rules before commencing gameplay.
Best of luck!
(1.1) Season Format
Regular Season: The season will start with 5 weeks of Regular Season matches. Teams are provided 3 maps to pick from each week. Home Team picks the first map. Away Team picks the second map. If either map ends in a draw, a single overtime round on Nepal will be played to decide who won the map. If the scores are tied 1-1 after the first 2 maps, then proceed to the remaining map from the weekly pool.
Playoffs: Immediately following the regular season, there will be a single-elimination playoff period.
Scheduling: Teams will be scheduled via the Swiss-system based on the following variables: a) Wins, b) Games played, c) Losses, d) Points against, e) Points for, f) Points differential and g) Skill rating.
Default match nights: Wednesdays for NA Gold Division & Thursdays for all other divisions.
Default match time: 9:30pm EST for North America, 8:00pm (20:00) CEST/CEDT/CET for Europe and 10:00pm (22:00) (GMT-3) for South America.
Match Deadline: Sunday 11:59pm EST for all divisions. Failure to report the match on time may result in both teams receiving a loss.
(1.2) Division placement
Placement of teams in Gold, Steel & Iron will be determined on a case-by-case basis, based on the following team factors:

Performance in previous UGC seasons
Stability
Reliability
Performance in other tournaments and leagues
Admin discretion
Skill rating

Gold - Top division, teams/players should have established records in other tournaments/leagues, most players should be 3500+ SR.
Steel - New or established teams/players, should have prior experience in UGC. Team average SR must be 3500 or below*. Teams are permitted no more than 2 Grand Masters at any time.
Iron - Brand new teams/players with no tournament/league experience, individual player SR must be 2700 or below*.
*SR limitation for Steel & Iron is based on the SR of the player at the time of roster join. Players that improve their SR after rostering will not be kicked off the roster. This rule applies to players added August 26th, 2017 and after.
(1.3) Match Comms
Team Leaders are required to use the Match Communications panel to coordinate all details of the match, including but not limited to the date/time to play the match and any possible unrostered players needed for the match.
Team Leaders can access the Match Comms from 2 locations:

While logged in as a Team Leader: by clicking on Match List > View Match Details from your Team Leader Homepage.
While logged in as a Player: by clicking on the yellow "Match Details" button on your Player Homepage.
(1.4) Rescheduling
Teams are welcome to play their matches on non match days but this must be agreed to in writing in the Match Communications panel by leaders on both teams.
Admins will never force a team to reschedule a match. If teams cannot agree on a reschedule date/time then the default date/time MUST be used.
Regular Season Matches must be played and reported by Sunday 11:59pm EST each week
(1.5) Player Eligibility
All players on a team must be listed on their team roster at least 18 hours prior to the agreed upon match date and time in order to be eligible to play.
Teams may only have 1 player from an outside region on their roster at a time.
(1.6) Roster Change Restrictions (Effective Midnight EST of Week 1)
Players may join 1 team per 8 day period. The 18 hour roster cooldown timer still applies to roster joins.
Teams may accept no more than 3 players to their roster in an 8 day period. A player that left your roster and wants to rejoin will still count against this limit.


Exceptions:

Prior to the effective date, players may move around freely and teams can accept as many new players as they want. This rule will be in effect starting at Midnight (EST) of Week 1 default match day and will remain in effect throughout the season.
Teams sitting in one of the Regional *New Teams divisions are exempt from all aspects of these rules while they reside in that division.
(1.7) Unrostered Players (Ringers/Mercs)
Written permission in Match Communications from the other team leader is required for approval of usage of any unrostered player.
Once a specific unrostered player has been approved in writing in the Match Communications, that player may participate in the entire match and cannot later be disputed.
Teams do not have to allow any unrostered players in the match if they do not want.
Admins will never force a team to allow an unrostered player in a match.
It is the responsibility of each team leader to check all players in the lobby from the other team prior to starting the match. Once the match has been started, you are giving tacit approval that every aspect of the match (including all players in the lobby) is good to proceed.
(1.8) Sportsmanship
Good sportsmanship is an important part of this league and all teams should be treated with respect. UGC has a zero tolerance policy for toxicity and Admins have full discretion when handling complaints of such behavior. Infractions will result in your team being suspended, and possibly being removed from the league.

Examples of bad sportsmanship include, but are not limited to: a) remarks that attack one's ethnicity, sexual orientation, gender, or religion; b) excessive tea-bagging and other purposely provocative or inflammatory behavior; and c) stalling a match start to avoid forfeit.
(1.9) Forfeits
If a team does not show up for a match within a reasonable length of time after the default or agreed upon time, teams must contact their Division Admin for permission to submit a submit a forfeit win
(1.10) Maps
Teams must play the maps listed on the schedule page for each given week. Teams are not permitted to change the maps for any reason.
(1.11) Reporting Scores
The winning team must report the final match score within 24 hours of match completion.
(2.1) Game Version
Every match must be played in the official version of Overwatch. Teams may not, under any circumstances, play their match in the Public Test Region (PTR) version of the game.
(2.2) General Settings
Matches must be played as a Custom Game with the following settings. Any settings not called out below must be left defaulted. Lobby settings can be viewed by all lobby members and must be verified by both teams before match start

Preset: Competitive
Disable Kill Cam (From settings menu: Modes > All > Kill Cam)
Non-Tie Breaker Control maps set to 2 wins (From settings menu: Modes > Control > Score to Win = 2).

Tie breaker control maps should be set to Score to Win = 1.
(2.3) Map Scoring
Teams are provided 3 maps to pick from each week. Home Team picks the first map. Away Team picks the second map. If either map ends in a draw, a single overtime round on Nepal will be played to decide who won the map. Each map won = 1 match point. Possible match scores 2-0 or 2-1.
(2.4) Forfeits (Defaults) and Bye Weeks
Forfeit Wins will count as +0.5 to the Wins and Games Played categories on your rank.
Forfeit Losses will count as +0.5 to the Losses and Games Played categories on your rank.

Your 1st forfeit loss will result in your team being set to Not Ready which will remove your team from the scheduling rotation. You will receive an email when this occurs and will have the opportunity to set your team back to Ready before the next schedule is posted.
Your 2nd forfeit loss will result in your team being Suspended from the league and removed from the scheduling rotation. If your team wishes to continue playing after this point you will need to discuss with your Division Manager.

Byes will count as +0.5 to the Wins and Games Played categories on your rank.

No Round Points (For or Against) will be awarded for Forfeits and Byes.
(3.1) Casting
UGC will provide casters for select matches every week.
Any additional caster must be approved by the UGC Division Admin ahead of time.
Matches must be casted through Twitch with a 90-sec stream delay.
(3.2) Spectating
Matches may not be spectated by any players for any reason (not even backup players on your roster waiting to sub in).
Inviting a spectator to your game will result in your team losing the match.
UGC Admins and approved casters are exempt from this rule.
(3.3) Streaming
Players are permitted to stream their matches via Twitch with a 90-second delay.
Streamers must be playing in the match. Spectators are not allowed at any time.
(3.4) Recording of Matches
At least one player per team is required to record the match at a minimum of 480p resolution.
The recording can be done locally or can be a saved stream.
These recordings will be used in the event that there is a match dispute.
This rule will be in effect until Blizzard finishes and implements their own in-game recording system akin to demo recording in Source Engine games.
(4.1) Lobby Leader Responsibilities
By default, the Lobby Leader is the Team Leader of the Home Team.
The Lobby Leader is responsible for setting up the Custom Game in accordance with UGC rules (see Section 2 above).
The Lobby Leader is required to provide a screenshot showing that Team Leaders from both teams agree (via in-game chat) to the settings being used for the Custom Game.
Remember, once you agree to begin the game you are giving agreement that the lobby is setup correctly and that all connected players are approved to play in the match.
These screenshots will be the only evidence the Lobby Leader has in a dispute.
Failure to submit these images (when requested by an admin for a dispute) may result in a loss for the Lobby Leader's team.
(5.1) Player Disconnects
In the event that a player disconnects from the game, that player is permitted to rejoin the game at any time. This applies to disconnects that occur both before and after the round setup time. In the event that the original player is unable to reconnect, a substitute player from the roster is permitted to join the game at any time.
(5.2) Pausing
A team may only request a pause in the event of a player disconnect. This pause can only be used once for the entire match and must not be for longer than five minutes.
To start/end a Pause use the following key strokes Ctrl Shift +
(6.1) Roster Lock
Rosters will lock for Playoffs on Sunday October 29th at 11:59 EST. This roster lock will remain in effect for the duration of the playoffs.
(6.2) Map Draft
Maps for playoff matches will be chosen by teams using owdraft.com.
One leader from each team will need to be present to go through the map draft process.
Home Team should ban the first map and then take turns eliminating maps from the pool until all maps have been eliminated.
Last map eliminated = First map played in the match (if non-control map is picked, Home team decides whether to attack/defend first)
The 2nd to last map eliminated will be played next.
If a tie breaker is needed, the last Control map eliminated from the draft (and not used in R1 or R2) must be used.

Set to 3 wins. (From settings menu: Modes > Control > Score to Win)
(Possible TB maps: Ilios, Lijiang Tower, Nepal & Oasis)